Um pranto por ajuda na prisão: sr. Zhan Xingmao sofre abuso psiquiátrico com drogas desconhecidas
9 de Abril de 2014 | Por um correspondente do Minghui na província de Jiangsu, China
(Minghui.org) Mr. Zhan Xingmao, a Falun Gong practitioner from Yangzhou City, Jiangsu Province, has been suffering psychiatric abuse in Hongzehu Prison, where his four-year term started in October 2011. His letter, written in prison, calls for help and reveals details of how he nearly died on December 25, 2012, when he was being treated for a small problem in the prison hospital.
Mr. Zhan has been severely persecuted since July 1999 when the persecution of Falun Gong began. During the past 15 years, he has only been home for a total of a year. The rest of the time he was either forced to leave home, in a forced labor camp (three years altogether), in a mental hospital (for three years), or in prison (since October 2011). His family members do not dare to help him and won't even sign his medical parole request.
He wrote the following letter in prison, calling urgently for help.
Suspected Use of Psychiatric Drugs on Me in Hongzehu Prison
My name is Zhan Xingmao. I am from Zhanzhuang, Mengtao Village, Zhenwu Township, Jiangdu District, Yangzhou City, Jiangsu Province, and am 50 years old. I was illegally sentenced and am now detained in Hongzehu Prison. I suspect that I am being given psychiatric drugs and worry that I may die as a result at any time.
My face was a little swollen on December 25, 2012, so I went to see a doctor at the prison hospital. It was a trivial issue, and I was able to walk to the hospital on my own. However, after that doctor, Pan Yong, had injected me with only half a syringe, my heart started seizing at 30 to 60 second intervals. I was in excruciating pain. My face turned pale. My entire body turned limp.
I was taken to the Intensive Care Unit (ICU) at Sihong County People's Hospital at 8 p.m. on December 25, 2012. The hospital issued "critical condition notices" twice. Doctors in the ICU later told me that I was poisoned with potassium chloride. They also diagnosed me with Hepatitis E.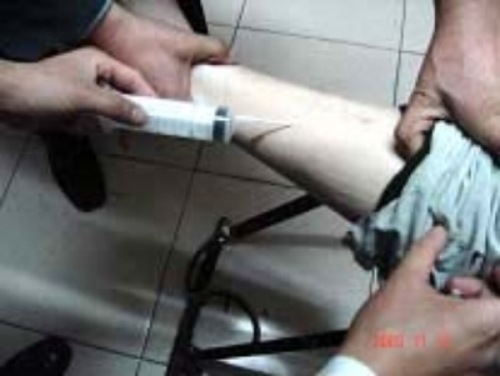 Torture reenactment: Injection of unknown drugs
All the medicine, food, and water I was given were all provided by the prison. Where would the potassium chloride poison and the Hepatitis E virus have come from? Shouldn't Hongzehu Prison be held responsible for this?
On January 10, 2013, while I was still in the hospital, I wrote a letter to Zhou, head of the political department of Hongzehu Prison, and raised these questions, but Zhou never responded.
Doctor Shi Hengming published my medical record in the prison newspaper Hongxin as "intermittent chest tightness and palpitations for six months." This was a distortion of my situation. I started suspecting that something was wrong with the injections and drugs the prison was giving me. Based on my belief in Falun Gong, I would never commit suicide.
I was sent back to Ward 11 in the prison on July 25, 2013. A political instructor with the last name of Wu told me to take medicine on August 29. I didn't need to, because I had recovered well from the near death episode in December 2012. In addition, when I took the medicine before, my stomach really hurt, so I refused. Wu yelled at and swore at me.
Right after I was transferred to Ward 11 back on April 25, 2012, I was kept in a room without surveillance cameras. When they were trying to force me to abandon my belief, I was deprived of sleep all day and night and became confused. I was also beaten and verbally abused.
Prison guard Zhang Yuansheng beat me, and my hands swelled up. Guard Wang Hui hit me in the head and slapped me repeatedly. Inmates Yang Zhengyao, Bai Yongjian, Dong Lingling, and others also participated in the beatings. My report of the beatings was ignored by the prison authorities.
I have been persecuted many times. Below is a brief timeline:
12/17/19999: Unfurled a "Falun Gong Is Good" banner at the Great Wall in Beijing, later arrested
03/27/2000: Departed for Beijing again on a bicycle to appeal for Falun Gong
04/04/2000: Arrived in Beijing. Arrested and sentenced to one year of forced labor
2000 to 2001: In Fangqiang Forced Labor Camp in Jiangsu Province (1 year term), shocked by four electric batons simultaneously and had to do forced labor for up to 13 hours per day
June 2001: Sent to Wutaishan Mental Hospital in Yangzhou City. Later transferred to Jiangdu Mental Hospital.
06/25/2004: Escaped from Jiangdu Mental Hospital after suffering three years
April 2005: Arrested in Sichuan and sentenced to two years of forced labor
End of 2007 before the Chinese New Year of 2008: Returned home to the Jiangdu District, Yangzhou City
10/1/2007: Forced to leave home
10/24/2011: Back to Yangzhou City, arrested and sentenced to four years in prison, from 10/24/2011 to 10/23/2015
12/25/2012: Saw a doctor at the Hongzehu Prison Hospital, sent to the intensive care unit of a local hospital, almost died. Later learned that I had been poisoned with potassium chloride and was diagnosed with Hepatitis E.
01/10/2013: Raised questions about the diagnoses, no answers were provided
07/25/2013: Left the hospital and returned to Ward 11